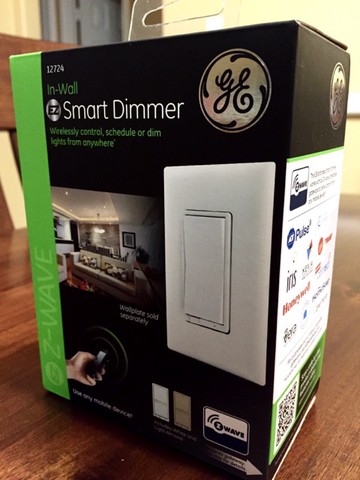 If you can't get your hands on a HomeSeer HS-WD100+, the GE 12724 is a nice alternative. It doesn't have a visual indication of the dim level, and it doesn't support multi-tap scene control, but it's comparable in most other ways.
So long as you can get beyond the crappy status reporting, that is…
Notes
I bought this dimmer as an experiment to see how I liked it (and because HomeSeer is out of stock on the good stuff as of this writing). It… works, but it is NOT impressive in the automation context.
Like the other switches I've reviewed, installation was a breeze. I had to break off the right-hand heat sink tabs (it's installed next to a fan switch), but that was very easy to do with a pair of pliers. Once installed, the decora style blends nicely; it looks like… a switch.
Functionality is very basic: on/off, and dim level. You can also set various properties if your controller supports it, such as the ability to invert the switch, the ramp rates, and so forth. There's not really much to write home about, and certainly none of the advanced features of the HomeSeer.
The biggest drawback – and the thing that will keep me from buying more of these – is the fact that status updates don't work correctly with openHAB. A number of folks have commented on this online, and the bottom line is that the handling of status reporting in this switch is broken. It does send an update if you tap it manually, but it only appears to send the first step of the ramp rate.
Upshot: when I turn the switch off, openHAB starts believing that the switch is at 79% dim level instead of 0.
Yeah, I won't be using these for much.
tl;dr: They spent more time making the box pretty than on making solid firmware.
Pros
Easy to install.
Basic functionality is solid.
Remembers the last dim level when the light is turned on.
Separate ramp rates for local and remote control help to avoid abrupt transitions.
Electronic control mechanism for silent operation.
Cons
Status updates are broken with openHAB (and possibly other controllers). It also doesn't report manual dimming events.
No on-switch indication of the current dim level.
The blue LEDs are somewhat annoying; I prefer HomeSeer's white, or Leviton's green.
May have issues with remote ramp rate not working.1
---
Updated 4/7/2017 to clean up visuals and note that remote ramp rate is broken. ↩︎