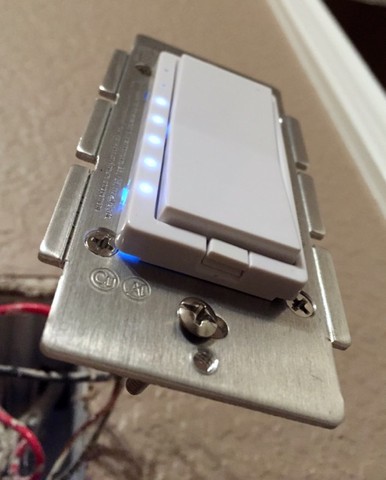 The HomeSeer HS-WD100+ In-Wall Dimmer is widely recognized as one of the best Z-Wave dimmers currently available. It has the functionality one would expect of a dimmer, plus additional scene control abilities via double- and triple-tap operations on either the top or bottom paddle. Pairing is simple, but advanced features may not be available with some hubs.
Notes
I purchased this switch in the hope that it would be a good answer to my instant status problem – and went with a dimmer instead of the standard switch simply because I could. The ceiling lamp in my home office is now controlled by one of these, and it works pretty well.
Installation wasn't difficult, but I will note that side-wiring these switches may be an exercise in frustration (I chose to back-wire them since that's what the instructions said to do). The screws simply don't have enough travel that 12AWG wire is likely to fit under the head from what I could tell.
I do have a concern regarding using multiple dimmers in a single box: the switch has a very large front plate that looks like it's too big to allow for multiple switches in the allotted space. I've read online that the tabs can be broken off to reduce the required space, so that could perhaps help. I like these dimmers a lot, so I guess I'll find out when I do my living room (which has a 4-gang box containing everything under the sun).
Pairing with the Wink wasn't terribly difficult, but these switches are not directly supported; you should add a generic Z-Wave light bulb instead. Yes, that's non-intuitive. Yes, it works.
You will not have double- and triple-tap support in Wink. This does not surprise me, but will likely force me to try another hub (or build my own, perhaps).
These switches also support separate ramp rates for local and remote commands. This looks like it will be very useful, but the default setting is less so. When you turn the switch on, the default is to ramp up fairly slowly. Unfortunately, this can't be set via the Wink.
My only other item of note with these switches is that there is a faint audible hum when dimming. From what I've heard, this isn't uncommon, and probably can't be avoided.
Pros
Easy to install
Sharp look
Helps extend your Z-Wave mesh
Remembers the last dim level when the light is turned on
Separate ramp rates for local and remote control help to avoid abrupt transitions
Electronic control mechanism for silent operation.
Supports Instant Status
Cons
My GE LED bulbs flicker slightly at the lowest dimming levels.
Advanced functionality not supported on Wink hub.
May be difficult to install multiple units side-by-side.
Faint audible hum when dimming.
The default ramp rate is fairly slow, and can't be set with the Wink hub.